Garage Door Spring Repair
Expert Garage Door Spring Repair
On Track Garage Door offers professional garage door spring repair service to homeowners. With years of experience and expertise, our team of skilled technicians can diagnose and repair any issue related to garage door springs.
We understand that a broken or faulty spring can cause inconvenience and pose safety risks, which is why they offer a prompt and reliable service. Our service includes a thorough inspection, precise diagnosis, and efficient repair or replacement of the springs to ensure your garage door operates safely and smoothly.
With On Track Garage Door, you can have peace of mind that your garage door is in good hands. typesetting, remaining essentially unchanged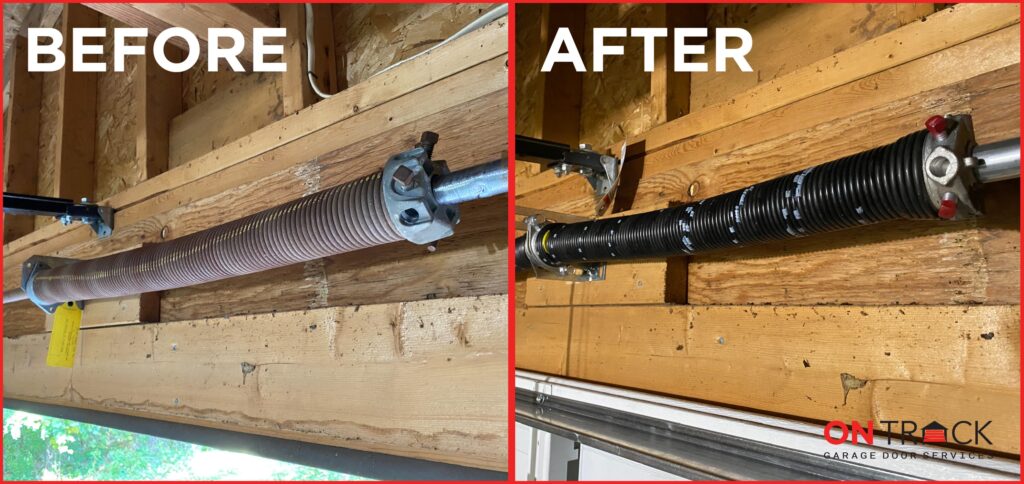 Types of Garage Door Springs
Torsion Springs
Torsion springs are the most common types of garage door springs. Torsion springs are mounted horizontally above the garage door opening. They are designed to store mechanical energy as the door opens and release it when the door closes. Torsion springs are known for their durability and ability to handle heavier garage doors. They typically last longer than extension springs and provide smoother and more controlled door movement.
Extension Springs
Extension springs are installed vertically on either side of the garage door, parallel to the horizontal tracks. They work by extending and contracting to counterbalance the weight of the door. Extension springs are typically used for lighter garage doors and are more common in residential settings. They require safety cables to prevent potential injury in case of spring failure.
Common Signs of a Damaged Garage Door Spring
Auburn Hills

Berkley

Birmingham

Bloomfield Hills

Brighton

Canton

Clarkston

Clawson

Commerce Township
Davisburg

Farmington

Ferndale

Franklin

Highland

Holly

Howell

Huntington Woods
Keego Harbor

Milford

New Hudson

Northville

Novi

Pleasant Ridge

Plymouth

Royal Oak

South Lyon
Southfield

Troy

Union Lake

Walled Lake

Waterford

West Bloomfield

White Lake

Wixom
Looking For Garage Door Help?